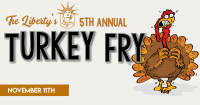 The Liberty's 5th Annual Turkey Fry
Time: 6:00pm Day: Thursday Doors: 4:00pm Ages: 21+ Ages
This Event Has Ended
Join us for The Liberty's 5th annual Turkey Fry while we deep frying turkeys in boiling oil. Take a first hand look at the process and enjoy fresh cooked turkey served with traditional Thanksgiving sides. We will be honoring local veterans by offering FREE desserts to veterans attending!
Deep frying turkey is a process that involves lowering a turkey with a hanger-type apparatus into a giant vat of 400-degree oil heated with propane gas, and cooking it for a fraction of the time it takes to oven bake.
We will drop turkeys around 5pm as they take an hour to cook. The turkey will need to rest for 20minutes or so, dinner should be served by 6:30pm.
FULL MENU : $30 per person
Sliced Fried Turkey, Roasted Squash & Carrots, Mashed Red Potatoes & Gravy, Herb Stuffing, Dinner Roll
Reservations are required for this event, please email hillary@thelibertyinc.com