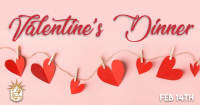 MENU ANNOUNCED!
Valentine's Dinner
with classical guitar by Tomas Vigil
Email reservations to hillary@thelibertyinc.com
Time: 5:45pm Day: Monday Doors: 4:00pm
FREE Live Classical Guitar Music by Tomas Vigil
MENU ANNOUNCED
Steak three course meal $36.50
Carbonara three course meal $29.50
Reservations required, meal choices will need to be confirmed at the time reservation is accepted. 
Romaine lettuce, shaved parmesan, croutons, caesar dressing
Strawberry shortcake trifle
Pair with a bottle of Syrah!