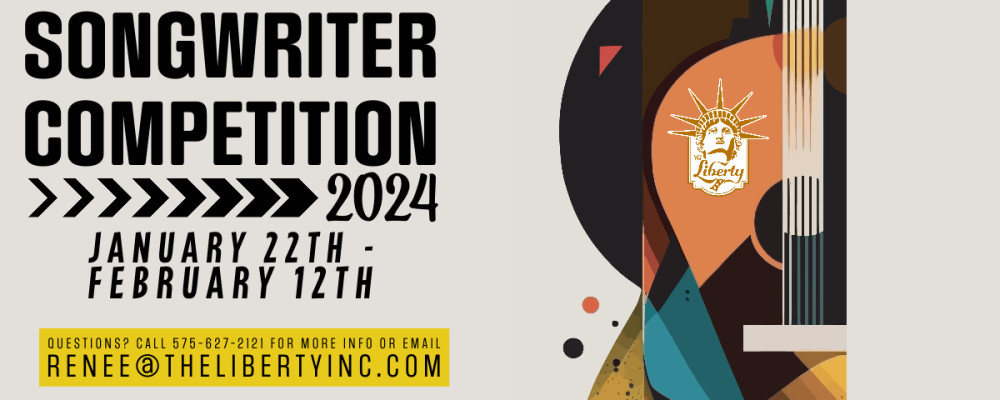 1ST ANNUAL SONGWRITER COMPETITION 2024
We are excited to announce our First Annual Songwriter Competition!
Prelim week #1 –January 22
Prelim week #2 – January 29
Prelim week #3 – February 5
FINALE NIGHT – FEBRUARY 12
This event will take place on four straight Mondays, beginning January 22nd. During those preliminary dates, 8 slots will be available for sign-up, along with 5 slots on a waitlist per night just in case one of those 8 can't make it. From those 8 songwriters, 3 will advance to the Finale on February 12th in which they will compete against those who moved on as well.
The ultimate winner, along with the first runner-up and second runner-up will be chosen on February 12th. Winner will receive a recorded song and music video courtesy of Richard Cagle in Ruidoso, NM. (Music Video can be subbed for another song). Winner will also receive a booking at The Liberty and The Blue Light in Lubbuck, TX, opening at a show at The Tumbleroot Brewery and Distillery in Santa Fe, NM, and a $300 cash prize. The winner will win a custom leather guitar strap courtesy of David Orton, along with other prizes.   
2nd Place winner will receive a $200 cash prize, and 3rd place winner will receive $100 cash prize.
Rules:
Each songwriter will be allowed two songs (Songs shouldn't be longer than five minutes in length)

Each song must be an original. No covers.

Songwriters must provide copies of their lyrics for the judges prior to performance. If you do not bring advance copies, paper will be available.

Each songwriter must make their own arrangements with regards to instruments. (Bring a guitar, etc.)

If and when you advance to the Finale, you will not need to perform again in the competition until the Finale
To sign up for the competition simply scroll down on this page and fill out the form
For more information about the Singer/Songwriter nights email us at renee@thelibertyinc.com or call 575-627-2121.